An Amazing Experience
Confessions of a Volunteer Leader
June 16, 2023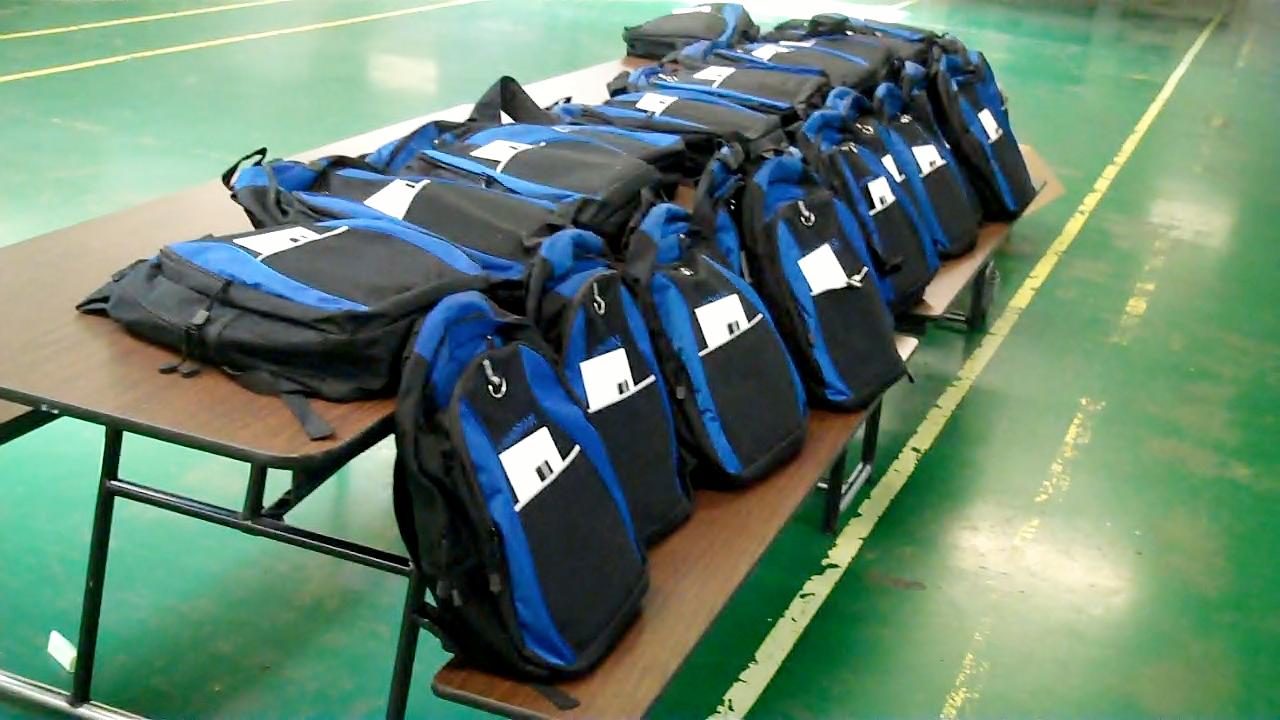 My name is Theresa Dowling, and I have been a Volunteer Leader for HandsOn for several years now. I had to share my most recent experience as Volunteer Leader.
You may have noticed several updates from HandsOn lately for backpacks and other school supplies for a Back-to-School event at the Watkins Homeless Shelter. I am always moved when I do HandsOn projects at Watkins. The kids and their families are so wonderful. The children, as you can imagine, are going through such a scary time. They are in a new place with little privacy, few comforts of home, and many strangers. Every week or two HandsOn volunteers come in to play with the kids, and give the parents a few minutes of respite. The kids love having new adults to play games with and just to talk to! The result of our efforts for last week's Back to School project was far more than I could have ever imagined! We had over 200 backpacks donated by multiple donors. Many were filled with pencils, markers, folders, binders, and even t-shirts! With the help of one special volunteer, Karen Furbush, we had 24 backpacks embroidered with the kids names on them. For kids who often have no personal possessions that they can call their own, this is a very special thing to have!
Finally, the day came last Thursday that we got to distribute them at the shelter. It was amazing! As HandsOn Staff Member Tom and I snuck in early with the backpacks, the moms were all aflutter! One mom even said to me that she wished her baby was old enough for a backpack. She admitted she did not want him to go to school – she just wanted a cool backpack too! Tom laid all the backpacks out on a table in the cafeteria, and then we brought the kids into the cafeteria. I personally escorted two new kids, a fourth grader and an eighth grader who had just gotten there the night before, and they were a little nervous wondering what we were doing and why we were all leaving the playroom. They were delighted! There were even backpacks full of amazing stuff for them too! The fourth grader never took hers off the rest of the time we were there! A volunteer handed the children the backpack with their name on it, and then sat with them enjoying cookies and juice while the kids looked through everything in the backpack. Karen Furbush even included personalized letters for each child!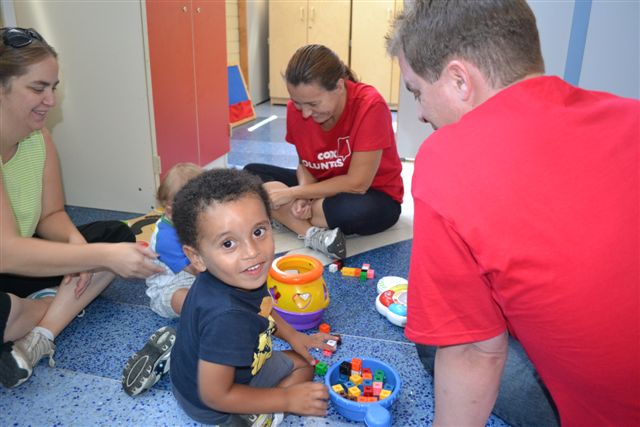 As other kids returned to the shelter, the plan was that one of the volunteers would give them juice and cookies and then escort them to the cafeteria. Our goal was an individual "unveiling" as they walked in there. Unfortunately, that did not work. Well, maybe not so unfortunately. Everyone else was so excited that when a kid returned to the shelter, the kid and his mom were immediately surrounded by their friends in the shelter. And the moms were leading the pack! One teenage boy – probably eighth or ninth grade -sat and was eating his cookies and juice in the playroom after he had received his backpack. And his dad asked for permission to come in and sit with his son while his son opened the backpack and checked out all the things in there. The dad looked even more delighted than his son!
I was expecting a big reaction from the kids, but I was surprised at the response from the parents. I guess they knew how much those things mean to their children, and it must be hard for a parent that can not provide that for their own kids. I just did not think about it from the parents' point of view. That was my big surprise.
I guess what I have been trying to say for these many paragraphs is simply, thank you to all the donors and volunteers who devote time and energy into the Watkins Shelter. Thanks goes out especially to Karen. Your generous gift made a big difference to many people – not just those 25 kids!