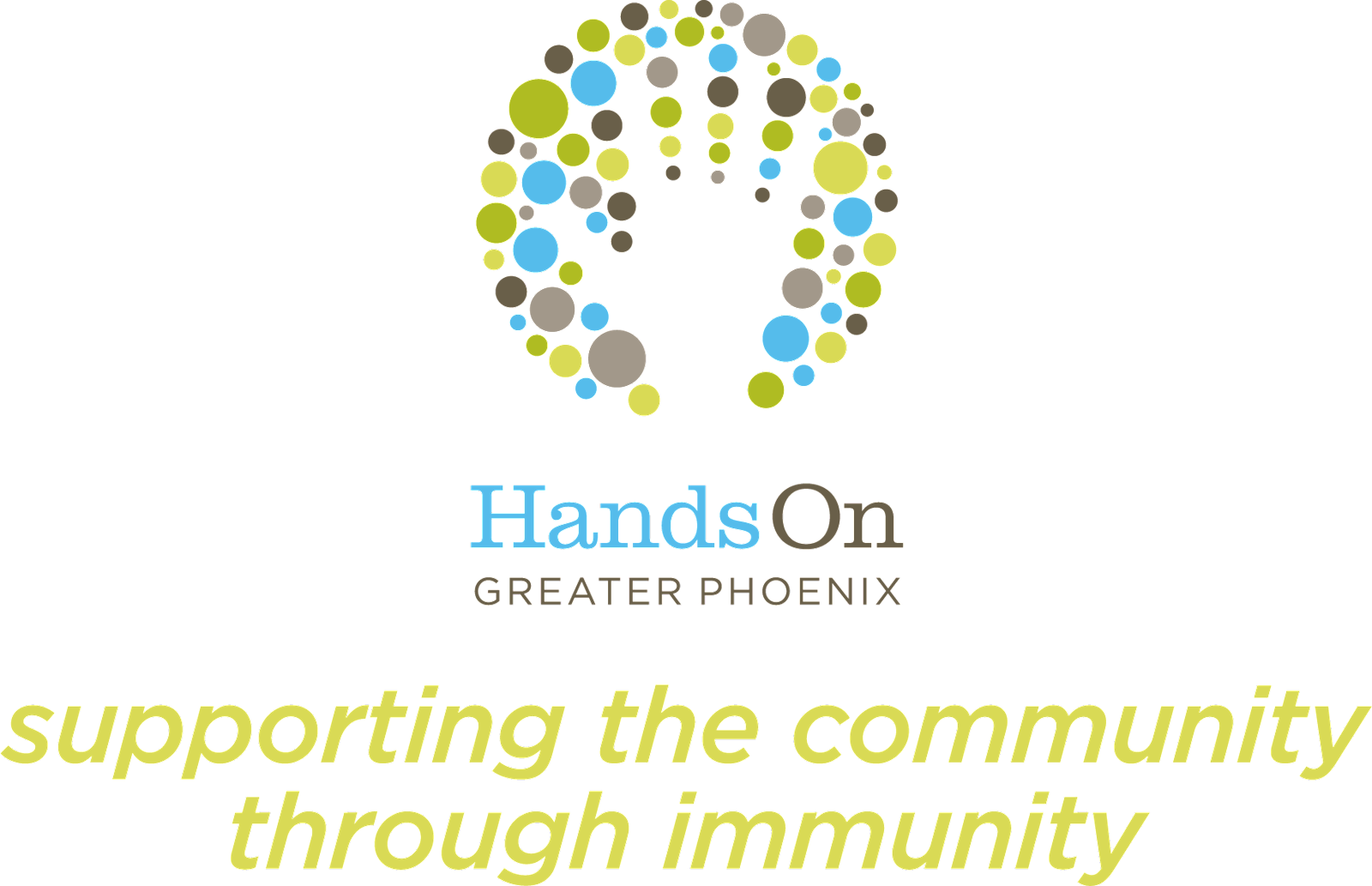 Non-Clinical Vaccine Volunteer FAQ
HandsOn Greater Phoenix is a local nonprofit whose mission is to put volunteers to work where they are needed most. Right now, we think one of the most important ways we can serve our community is by supporting the vaccine efforts in our State with volunteers. To that end, we are partnering with ASU at multiple State-run vaccination PODs to register and schedule volunteers. We know that this effort will take all "HandsOn" deck. Our hope is that you will find this historic experience so rewarding that you'll come back out to help again and again!
For those who are signing up for a shift:
Additional dates to volunteer will be posted on an ongoing basis but no set schedule for releasing new dates for sign-up has been determined.
Please DO NOT call or email our office to register. This is a web-based registration system only. We will post the latest information on volunteer opportunities on our website (www.handsonphoenix.org/vaccinatestate48) and social media channels.
DO NOT show up to volunteer at if you are not signed up for a specific shift.
The minimum age to volunteer is 18, no exceptions.
The registration system is 100% first-come, first-served. If you want to volunteer with a family member or friend, you will both have to be scheduled for the shift.
For those who have signed up for a shift:
If all shifts are full, you may not transfer your slot to someone else or bring anyone else to volunteer with you unless they too are signed up. You can release your slot by following the below steps and the person you want to transfer the spot to can sign-up through the website once it's released.
If you have questions, email asurecovidvolunteers@gmail.com and include "Question" with the POD location name "i.e., State Farm Stadium) in the subject.
The vaccine is simply a perk to volunteering, you may not transfer yours to anyone else. If you've already had the vaccine, you will simply volunteer.
Please limit personal belongings that you bring with, there is no place to keep bags or purses.
Here's how to access your account to find your confirmed shift, edit your account or cancel:
Log in to your account on handsonphoenix.org
Find "Volunteer" at the top of the site and select the "My Account" option
You will see your upcoming opportunities listed with the option to "remove" yourself from the shift if you wish to cancel.
What to do before you arrive:
Volunteer waiver must be emailed within the 72-hour period leading up to your shift. This can be found in the project description.
Have printed the vaccine consent form if you plan on receiving your vaccine and bring it with.
Be prepared with your QR Code Access Pass and Photo ID to speed up the check in process.
Try to show up 30 minutes prior to your shift.
Answers for while onsite:
Weapons, including firearms, are not allowed
Please dress appropriately for the weather, closed toe shoes are required.
Sunscreen and hats are highly recommended.
Masks are required.
Refer to the map in the project description for where to park.
Shifts are 6-7 hours long and include a break for provided meal.
There are bathrooms onsite and a hospitality tent. Volunteers are encouraged to take breaks as necessary.
At all sites there is a lost and found located at the volunteer check-in tent.
Details about the vaccine:
All volunteers who want the vaccine will receive it at the end of their shift. It is the Pfizer vaccine.
All volunteers will schedule the date and time of their second dose, shortly after receiving their first.
You do not need to volunteer a second time to receive the second dose. (But if you are able to, we would love for you to volunteer again!)
You will need your ID to complete the form to receive the vaccine.
If you don't receive a confirmation email after scheduling your second dose, you're confirmed to return on your second dose date/time. When you return, present your vaccination card and they'll look you up in their system and verify you through your ID.